Christian Science Services
Welcome to our church services!
1634 Main St. Murray, KY
Sunday Service is at 10:30 am and consists of Hymns, Responsive Reading, Prayer, Sermon, and Benediction. We are informal and visitor friendly. Come dressed as you feel comfortable.
Sunday School starts at 10:30 am and is designed for students ages 3 up to 20. Students are taught the Ten Commandments, The Lord's Prayer with its spiritual interpretation and the Sermon on the Mount. The next lessons consist of such questions and answers that are age appropriate and may be found in the Christian Science Quarterly Bible Lessons, read in Church services.
Wednesday Evening Testimony Meeting begins at 6:30 pm on the 2nd Wednesday of each month. The service consists of Hymns, Bible and Science and Health with Key to the Scriptures reading, and a period for congregation members to share, testimonies and remarks about healings and experiences resulting from the teachings of Christian Science.
Find out more about Christian Science
Visit our links page to find out about Christian Science, a means of spiritual care through which individuals have found better emotional and physical health, answers to life's deepest issues and progress on their spiritual journeys. Healthcare decisions are always a matter of individual choice. Membership in The First Church of Christ, Scientist is not a prerequisite for the practice of Christian Science.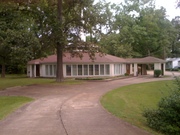 Within Walking Distance of Murray State University!
Christian Science Services have been held in Murray for over 50 years. We have been in our church building since 1990. Located within walking distance of the Murray State Campus